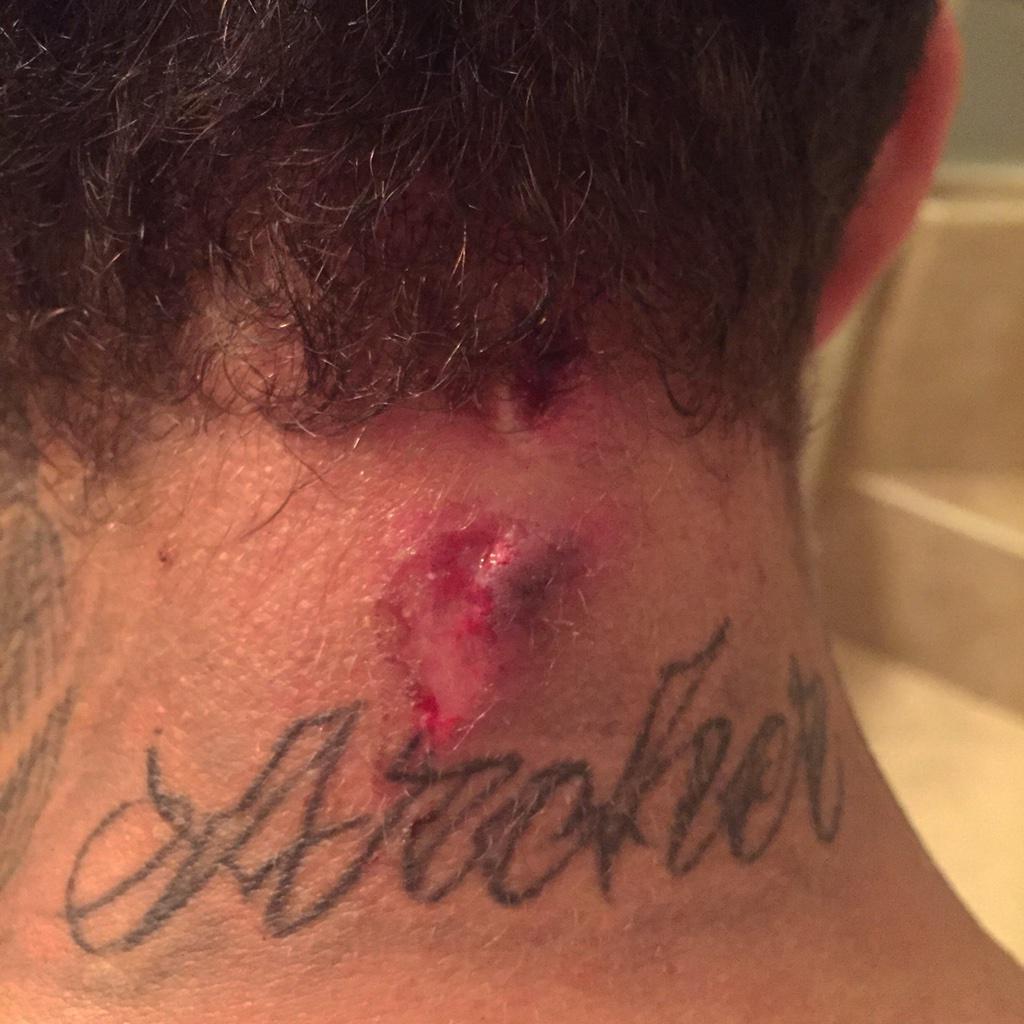 A rap artist driving on a Southern California freeway said something that felt like rocks struck the back of his neck before he realized someone had opened fire on his vehicle.
Rapper Phora was driving with his girlfriend on the 210 Freeway near Pasadena early Tuesday morning when another motorist opened fire. The bullet struck his shoulder and neck.
"I was just stunned," Phora said. "I didn't know if it was a gun or somebody was just throwing rocks. I looked over to my left and the windshield was cracked."
The Orange County-based rapper later posted a picture on Instagram showing his bandaged neck and shoulder. His girlfriend, who called 911, was not injured.
Officials are searching for a car that may be similar to a BMW or Infiniti G35, possibly a four-door, 2009 model. Police said the driver made the right decision to pull over instead of following the attacker's vehicle.
"They didn't try to follow the vehicle," said Lt. Tracey Ibarra, of the Pasadena Police Department. "They immediately exited the freeway to a point of safety."
No arrests were reported Wednesday morning.
About 650 emergency 911 calls regarding highway violence or road were received by the California Highway Patrol over the past three months. About 350 calls involved someone displaying a weapon, the CHP said.
Last night was one of the scariest nights of my life. Some of you may have heard the news reports, but to clear the air, I was driving down the 210 freeway in Pasadena with my girl, when a silver car pulled up and fired 3 shots into my car. I'm blessed to be alive. Dezy is blessed to be alive. The bullet traveled from my shoulder through to my neck up towards the back of my head. I was shot with a .45, and the bullet was stuck in the back of my head/neck JUST MISSING MY SPINAL CHORD, Vertebrae, etc. where I could've been paralyzed for the rest of my life, or even dead. There's only one explanation: God looking over us. Dezy wasn't hit. I checked her and made sure she was okay as I was hitting 90 exiting the freeway doing the best I could to get away. I wouldn't wish this upon ANYONE. I don't know if I was targeted or it was random, but it saddens me to know there's people out there that have no remorse and actually have the nerve to try and take a persons life. This was the second time in my life I've came close to dieing. It's not luck. It's not a coincidence. It's not a miracle. I have a guardian angel, and gods watching over me. It wasn't me time to leave when I got stabbed at 15, and it isn't my time to leave now. God has a plan for me. He has a purpose that I don't even have any idea of, but I know he's putting me through this for a reason. My life could have ended that very moment. Your prayers and your strength was with me and possibly even saved my life today. I'm still in pain, still recovering and going through a LOT right now, but I'm grateful to be alive. Grateful to be breathing. Grateful to have one more day on this earth. Tomorrow is never promised. It made me have a different outlook on life. Life's way too short to be worried about the small things. God has a plan for ALL of us. I believe mine is to make a difference in people's lives. I stand for what I believe in, I will also fight for the greater good of my people, and I will DIE fighting to change this world. No matter what comes in my way, I will always stand for peace and love, no matter how much hatred and violence they try to bring me down with, they won't stop me from fighting.